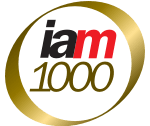 Great rankings in the latest IAM Patent 1000: The World's Leading Patent Professionals! The IAM Patent is a unique guide that identifies the top patent professionals in key jurisdictions around the globe.
Based on research and feedback from peers, the IAM Patent 1000 applauds Vondst as follows:
"Representing some of the biggest names in the life sciences field, boutique Vondst Advocaten "has been performing at a consistently high level and impressed with its recent results". With ferocious litigators in its ranks, this team routinely goes above and beyond to get results. Arvid van Oorschot "is fuelled by a strong desire to win and does everything in his power to secure victory. His stamina and assertiveness in the courtroom make him a redoubtable lawyer. He possesses outstanding analytical skills and understands technical situations quickly; crucially, he also knows how to translate complicated technical topics into accessible language". Another high flyer in the courtroom is Otto Swens, "a clever litigator with an instinctual feel for the strongest arguments". He also "demonstrates a strong understanding of his clients' businesses and is extremely responsive, too". Also enthusiastically endorsed is Ricardo Dijkstra. "He provides efficient advice that is easy to implement in practice and is an excellent lawyer and a well-respected Dutch patent litigator."
You can read all about it here.
Vondst is an Amsterdam based boutique law firm that focuses exclusively on contentious intellectual property, pharmaceuticals and life sciences, IT and privacy. This clear focus guarantees an in-depth and up-to-date knowledge of the laws and regulations and market practices and developments in the industries in which the firm's clients are active.
Vondst has an excellent reputation and is recognized in guides such as Chambers, Legal500, Managing Intellectual Property and IAM Patent 1000.